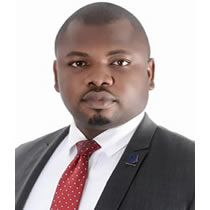 Shola Abeji (Anivs, Rsv, Amnim)
One of the founding Partners of Citacle Realtors, Olushola is a graduate of Estate Management from the Federal Polytechnic Bauchi, with over 16 years' experience acquired from private practice (Shola Abeji and Partners), and employs of foremost Real Estate firms such as Diya, Fatimilehin and Co., and Bello and Co. Owing to his vast experience, he currently oversees the Valuation Department  as a Partner at Citacle Realtors.
He is currently the Hon. Secretary of the Abuja branch of The Nigeria Institution of Estate Surveyors and Valuers (NIESV), and Secretary, Environmental Valuation Faculty.
He is also the Chairman of the Secretariat & ICT Committee in the Abuja Branch of NIESV.
Professional affiliations include;
•    Nigerian Institution of Estate Surveyors and Valuers (NIESV)
•    International Right of Way Association (IRWA)
•    Financial Reporting Council of Nigeria (FRCN)
•    Chartered Institute of Auctioneers, Nigeria (CIAN)
•    Nigerian Institute of Management (N.I.M.)
---
Contact Details
---
Send a Message